Richmond, Virginia (CNN) - The message on the front of the brochure looks like something Planned Parenthood might send out to potential supporters.
"It's your health," reads a strip of bolded text, placed just above an ominous-looking photo of two doctors in scrubs, shot from the perspective of an operating table. "Shouldn't it be your choice?"

- Follow the Ticker on Twitter: @PoliticalTicker
- Check out the CNN Electoral Map and Calculator and game out your own strategy for November.
But this isn't a mailer from abortion rights supporters or President Obama's re-election campaign. It's a new mail piece in Virginia from Republican presidential nominee Mitt Romney, an abortion opponent.
The choice on the table this November, the inside of the brochure argues, is a choice between government-run "Obamacare" that will stunt job creation and raise taxes, and "real, patient-centered reform" that will give states and patients more freedom and flexibility.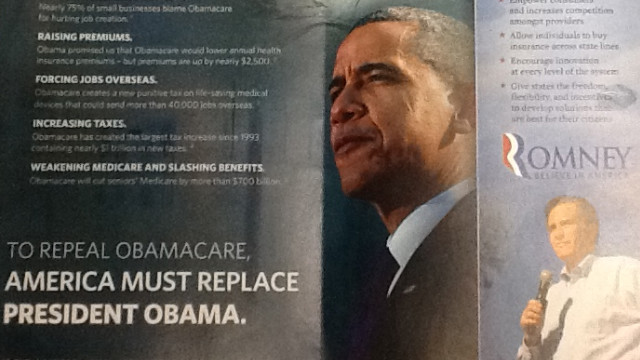 "Barack Obama puts government's well-being before Virginia's health," reads the mailer, which was received this week by a voter in Richmond and provided to CNN. "Mitt Romney believes it's your choice."
The back side of the mailer quotes Romney from his press conference after the Supreme Court upheld Obama's health care reform law.
"This is a time of choice for the American people," he said at the time. "If we're going to get rid of Obamacare, we're going to have to replace President Obama. My mission is to make sure we do exactly that."
Also on the CNN Political Ticker
- Rocker to campaign for Obama
- Shot fired at Obama campaign office
- Poll: Romney ahead in key state
- Obama takes supporters out to dinner