Washington (CNN) – The first congressional hearing on gun violence since the Newtown school massacre occurred Wednesday. Highlights of testimony from both sides of the debate are below.
1:53 p.m. ET - Sen. Leahy, wrapping up the hearing, says all of the witnesses at today's hearing have the same goal: preventing gun violence. He said going forward, lawmakers would respect all of the opinions expressed.
He also said he hoped the Judiciary Committee would be able to meet in February to mark-up gun control legislation, and ultimately bring it to the Senate floor.
1:51 p.m. ET - Sen. Mazie Hirono, the Democrat from Hawaii, asked the Baltimore police chief to give thoughts on how to prevent bullying in schools, which she said could lead to violent situations with guns.
James Johnson said police offices in schools can help prevent bullying in schools, but that more work needed to be done on the subject.
1:40 p.m. ET - Speaking at the hearing, Mark Kelly updates senators on today's shooting in Pheonix, where two people have been reported shot.
"While we were having this hearing, and we certainly don't know the details, but in Phoenix, Arizona, there is another what seems to be possibly a shooting with multiple victims. It doesn't seem like anybody has been killed but initial reports are three people injured in Phoenix, Arizona with multiple shots fired. There are 50 or so police cars on the scene."
1:36 p.m. ET - Asked whether the NRA would sign onto the "Sandy Hook Promise," Wayne LaPierre says his group wants to do everything it can to prevent further gun violence and increase safety in schools.

The promise stipulates: "I Promise to honor the 26 lives lost at Sandy Hook Elementary School. I Promise to do everything I can to encourage and support common sense solutions that make my community and our country safer from similar acts of violence."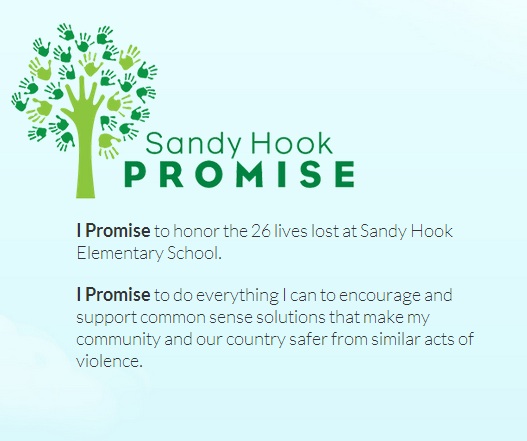 1:33 p.m. ET - Sen. Richard Blumenthal has begun his questioning. He represents Connecticut, and is describing the scene in Newtown immediately following December's shooting.
1:30 p.m. ET - CNN Chief White House Correspondent Jessica Yellin reports from today's White House briefing that Gabby Giffords will be at the White House Wednesday to meet with President Barack Obama, according to press secretary Jay Carney.
1:25 p.m. ET - Sen. Jeff Flake, a Republican, is beginning his questioning now. Like Giffords, he represents Arizona, and began his time by thanking both Giffords and her husband Mark Kelly for attending today's hearing.
1:21 p.m. ET - CNN's Dana Bash reports there will be no second round of questions for today's hearing, and that Sen. Leahy will make remarks about his plans for upcoming legislation.
1:10 p.m. ET – While this gun violence hearing is taking place in Washington, CNN is also reporting two on-going situations involving guns.
Pheonix police are responding to calls of an active shooting situation where at least two people have been shot.
The Athens campus of the Ohio University has been closed because an "armed fugitive has not been apprehended" after a nearby armed robbery, the college said on their website. It is a "precautionary measure," the statement said.
1:01 p.m. ET - Sen. Al Franken, D-Minnesota, says he will introduce a mental health bill tomorrow that aims to catch mental illness early in children. But he said he doesn't want to stigmatize those with mental health problems.
"The vast majority of people with mental illness aren't violent, and in fact are more likely to be victims of violence," Franken said.
1:00 p.m. ET – Wayne LaPierre, executive vice president and CEO of the National Rifle Association, says gun regulations have to be based in the "real world."
12:52 p.m. ET - Cruz says people often get confused by the language used in the gun control debate. People hear 'assault weapons' and think they people are using machine guns, Cruz argues. Those types of weapons are already illegal.
12:49 p.m. ET - Sen. Ted Cruz is beginning his questioning now. He, like Graham, wanted to bring actual guns to today's hearing.
12:45 p.m. ET – Sen. Amy Klobuchar, D-Minnesota, noted that victims and family members of victims of past mass shooting are in the audience at this Senate Judiciary Committee hearing. Audience members include a victim from the Aurora movie theatre shooting this past summer, a victim of the Wisconsin Sikh temple shooting, and two victims from the 2007 Virginia Tech shooting.
12:35 p.m. ET - Kopel says there are abundant legal uses for AR-15 weapons, and that banning them would prevent people from conducting their legal activities.
Trotter, asked by Sen. Mike Lee whether the women she represented who use AR-15s would stop using them if they were made illegal, says they would, but that it would negatively affect their ability to protect themselves.
12:33 p.m. ET - Sen. Mike Lee, R-Utah, asks David Kopel to name legal reasons people use semi-automatic weapons. Kopel cites self-defense and target practice.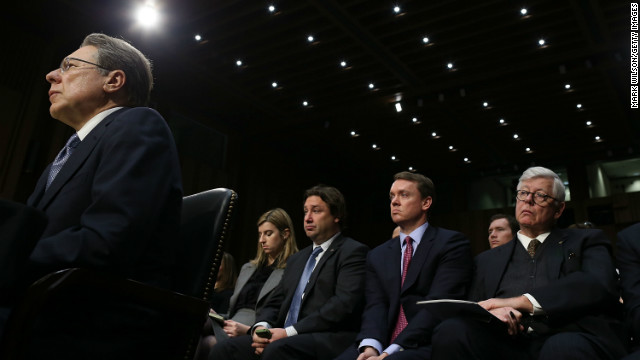 The NRA's president David Keene looks on as Wayne LaPierre testifies at Wednesday's hearing.
12:26 p.m. ET - Graham said he will oppose legislation to limit ammunition magazines to 10 rounds and ban semi-automatic rifles, arguing it isn't unreasonable to believe that people need such firepower to protect themselves against possible home invaders or rioters.
12:20 p.m. ET – Sen. Graham cites the story of a woman who earlier this month shot an intruder in her home. The Georgia woman, Donnie Herman, huddled with her two 9-year-old children in the attic while a man with a crowbar broke into the house, CNN reported at the time. She called her husband, who called police, and was on the phone with him as the gunman found their attic hideout. She shot him five times and the man escaped on foot, though he was later captured by police after crashing his car nearby the house.
"One bullet in the hand of a mentally unstable person ... is too many," Graham said. "Six bullets in the hands of a woman who is trying to defend her children may not be enough."
Gun rights advocates have referenced the story as a recent, real-world example of guns being used for protection.
12:13 p.m. ET - Lindsey Graham is using photos of guns to make his point that certain types of guns are effective in preventing further violence.
Graham originally wanted to bring actual guns to today's hearings, but was prevented by security rules on Capitol Hill. Read more on that story here.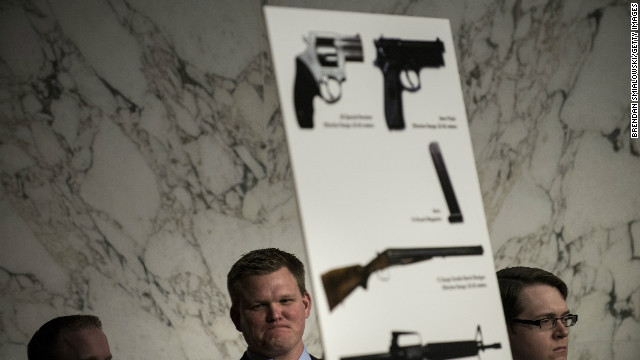 12:09 p.m. ET - Mark Kelly recaps events on the day his wife was shot in Tucson, including detailing what would have been a tragedy: an armed bystander with the intent of taking down Loughner almost shot the person who ultimately tackled the perpetrator.
12:08 p.m. ET - James Johnson, the police chief, described the argument by gun rights advocates that Americans need unrestricted rights to assault-style rifles to protect themselves from possible government tyranny as "scary, creepy and simply just not based on logic."
12:07 a.m. ET - LaPierre said Americans are afraid the government is abandoning them, and that in the case of tornados, hurricanes, or riots, that they're "going to be out there alone, and the only way they're going to be able to protect themselves, in the cold, in the dark, when they're vulnerable, is with a firearm."
12:04 p.m. ET - Durbin cites the story of a 15-year-old girl who performed at last week's inauguration who died from a gunshot in Chicago yesterday.
12:02 p.m. ET - Sen. Dick Durbin, D-Illinois, and LaPierre got into an argument on background checks, with Durbin alleging LaPierre had "missed the point completely," since if criminals don't subject themselves to background checks, they won't obtain guns.
"Senator, I think you missed the point," LaPierre countered.
Leahy used his gavel to call for order as the two sparred.
12:01 p.m. ET – LaPierre of the NRA rips the idea of expanding background checks to all gun sales - such as person-to-person or auctions by vendors who are not federally licensed firearms dealers - because "criminals don't cooperate with them."
11:56 a.m. ET - LaPierre is speaking out against senators pushing for new gun control laws, saying the discussion at the hearing "has little is has to do with keeping our kids safe."
"We've got to get in the real world about what works and what doesn't work," he argued, saying increasing background checks wouldn't work, since criminals would never subject themselves to such a process.
11:52 a.m. ET - Mark Kelly says gaps in the mental health system allowed Jared Loughner, the man who attempted to assassinate his wife, to purchase the gun he used in the Tucson shooting.
11:49 a.m. ET - Speaking at the hearing, Schumer said that he is in talks with colleagues - including several who are ranked highly by the National Rifle Association - on possible legislation to expand background checks on private gun sales.
11:47 a.m. ET - The witness speaking the most thus far is James Johnson, the Baltimore police chief and chairman of the National Law Enforcement Partnership to Prevent Gun Violence.
That's a surprise - LaPierre was undoubtedly the most anticipated speaker at today's hearing. Neither Feinstein nor Schumer addressed any questions to him.
11:43 a.m. ET - Sen. Chuck Schumer, D-New York, is bemoaning the "gun show loophole," which allows people to purchase firearms at gun shows without a background check. Schumer, who co-wrote the Brady Bill on gun control, said the loophole was included, to his chagrin, in order to get colleagues to vote for it.
11:41 a.m. ET – Sen. Jeff Sessions, R-Alabama, and the NRA's LaPierre are in agreement that the Obama administration is not properly prosecuting gun-related crimes. Sessions says Obama "should call in his United States attorneys and tell them you need to look at your numbers and get them up and emphasize those prosecutions." LaPierre calls the current rate of prosecution a "national disgrace."
11:40 a.m. ET - Sessions called for the Department of Justice to increase prosecution of gun violations in America, saying that the number of cases going to court has decreased in the Obama administration.
11:39 a.m. ET - LaPierre, responding to the calls for laws preventing straw purchases, says it's more important to enforce laws already on the books.
11:37 a.m. ET - Sen. Jeff Sessions, R-Alabama, is pushing for restrictions on straw purchases, saying it's a weakness in the system to allow guns to get in the hands of criminals.
11:31 a.m. ET – A sample of the language on opposite sides of his debate: Gayle Trotter of the Independent Women's Forum describes the AR-15 semi-automatic firearm as the "weapon of choice" for young women to defend themselves, while Sen. Feinstein speaks about "highly technologically efficient weapons which are originally designed to kill people in close combat."
11:30 a.m. ET - Addressing the NRA's proposal to put armed guards in schools, Feinstein asks "What about the malls, what about the movie theaters, what about the businesses?"
"We can't have a totally armed society," she said.
11:25 p.m. ET - Asking a question now is Sen. Dianne Feinstein, the California Democrat who has introduced legislation banning assault weapons. She says the debate is hard "because people have such fixed positions."
11:24 a.m. ET – Senators look out at the witnesses and audience. From left to right, Orrin Hatch of Utah, Chuck Grassley of Iowa, committee chairman Patrick Leahy of Vermont, Dianne Feinstein of California, and Chuck Schumer of New York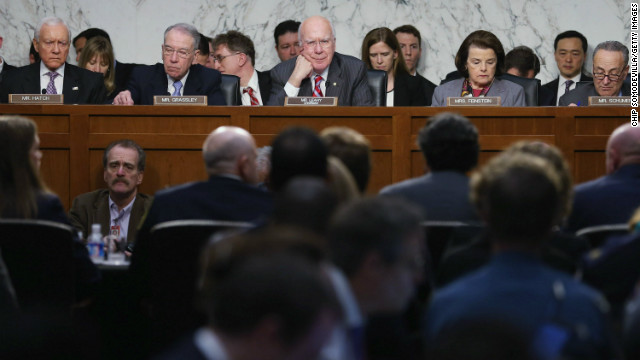 11:22 a.m. ET - Gayle Trotter is explaining why AR-15s are a preferred gun for women. She says women like them because they're "scary looking," and could intimidate criminals.
Here's an AR-15: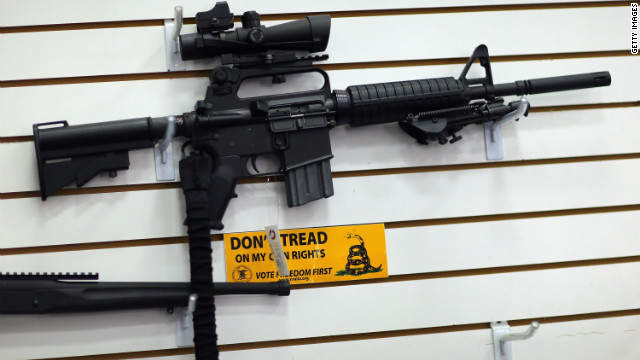 11:15 a.m. ET – Sen. Leahy asks the NRA's LaPierre about extending background checks, which are currently conducted on sales done by federally licensed dealers, but not on sales conducted by other sellers, such as in many auctions or in person-to-person sales. "If you're a dealer that's already a law," LaPierre said.
Leahy was not satisfied by that answer. "Let's not play games here," he said, cutting off LaPierre.
"I do not believe the way the law is now, unfortunately, that it does any good to extend the law to sales between hobbyists and collectors," LaPierre answered. His objections were that the current background check law was not being enforced adequately and "this administration is not processing the people that they catch."
11:11 a.m. ET - Leahy is pressing LaPierre on the NRA's stance on so-called "straw purchases" of guns. That's when a third party buys a firearm for someone who otherwise would be unable to, like a criminal.
LaPierre argues the NRA has always opposed straw purchasers, and has advocated for laws preventing them.
10:08 a.m. ET - Johnson, the Baltimore police chief, is answering a question from Leahy on gun violence in homes, particularly in domestic violence situations. He said a recent law strengthening background checks in Maryland has led to a decrease in domestic violence incidents that involve guns.
11:07 a.m. ET - In his statement Wednesday, LaPierre said that "it's time to throw an immediate blanket of security around our children" after last month's Connecticut school shootings.
11:03 a.m. ET – Last week, LaPierre delivered a spirited rebuttal to Obama's inauguration address at an event in Nevada, saying: "There are only two reasons for that federal list of gun owners – to tax them or take them. And to anyone who says that's excessive, Barack Obama says you're an 'absolutist.' He doesn't understand you. He doesn't agree with the freedoms you cherish. If the only way he can force you to give 'em up is through scorn and ridicule, he's more than willing to do. ... Mister President, just because you wish words meant something other than what they mean, you don't have the right to define them any way you want. Because when words can mean anything, they mean nothing."
11:01 a.m. ET - Wayne LaPierre is the Executive Vice President and CEO of the National Rifle Association, and is one of the organization's most recognizable faces. CNN's Tom Foreman profiled LaPierre this morning.
11:00 a.m. ET - CNN's Kevin Bohn reported today that the NRA's membership has continued to rise following the shooting in Newtown. It's gained about a half million members since then, and now has more than 4.5 millionmembers, spokesman Andrew Arulanandam said.
10:58 a.m. ET - Testifying now is Wayne LaPierre, the executive vice president of the NRA. Read his full testimony (as prepared) here.
10:54 a.m. ET - Gayle Trotter, senior fellow at the Independent Women's Forum, is arguing now that guns are essential for women to protect themselves.
"Guns make women safer," she said. "Most violent offenders actually do not use firearms, which makes guns the great equalizer."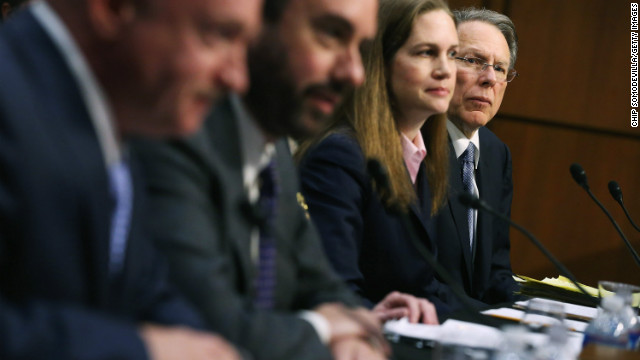 10:53 a.m. ET – Gayle Trotter is a senior fellow with the Independent Women's Forum and is speaking in favour of gun rights. She is also a Washington lawyer, according to her bio from the IWF.
10:50 a.m. ET - Speaking now is James Johnson, the chairman of the National Law Enforcement Partnership to Prevent Gun Violence. Johnson is also the policy chief of Baltimore County, Maryland.
He's giving a full-throated endorsement of background checks, which he said work in preventing guns from getting in the hands of criminals.
He also says a high-capacity magazine ban, and an assault weapon ban, must be reinstated. Such legislation is currently working its way through the Senate.
10:48 a.m. ET - Kopel said the only way to prevent gun violence in schools is to provide armed guards to protect children - an endorsement of a plan offered by the National Rifle Association in the immediate aftermath of the Newtown school shooting.
10:44 p.m. ET – Kopel tweeted before the hearing began:
10:40 a.m. ET - Speaking now is David Kopel, a policy analyst at the Cato Institute, a libertarian think tank in Washington.
10:37 a.m. ET - Kelly is explaining now how he and Gabby Giffords are also gun owners. "Gabby would never relinquish her gun, and I would never relinquish mine," he said.
Read more about Kelly and Giffords' gun ownership here, from Dana Bash.
10:35 a.m. ET - Mark Kelly, the husband of Gabby Giffords, is delivering his testimony now. He's started by explaining how each of the victims of the Tucson shooting was affected, and by telling how the shooter, Jared Loughner, obtained his weapons.
"Behind every victim lies a matrix of failure...in our society's approach to poverty, violence and mental illness," he said.
10:30 a.m. ET – Sen. Grassley noted the video game played by the suspect in the 2011 Norway mass shooting, Call of Duty: Modern Warfare 2.
(CNN) - Norway's alleged mass killer testified on Thursday that he played video games as a way to train for a shooting spree that killed 77 people last summer. In particular, Anders Behring Breivik said at his trial that he played "Call of Duty: Modern Warfare 2" as a means of shooting practice...
10:29 a.m. ET - Grassley is criticizing Obama's recent remarks on gun violence, when the president said "We have the right to worship freely and safely — that right was denied to Sikhs in Oak Creek, Wisconsin. The right to assemble peacefully — that right was denied shoppers in Clackamas, Oregon, and moviegoers in Aurora, Colorado."
Grassley said that reflected a misreading of the Constitution, arguing Obama "turned the Constitution on its head" by saying crime victims were denied their rights.
10:23 a.m. ET - Sen. Chuck Grassley, the ranking Republican member of the Judiciary Committee, is delivering his opening statement. He said the problem "is greater than guns alone," and that any discussion of stopping violence must include reforms to the mental health system.
He also said a "lack of civility" had grown pervasive in U.S. society, and that children were playing too many violent video games.
10:20 a.m. ET - Constitutional rights to bear arms "are not at risk" in seeking ways to reduce gun violence in America, Leahy explained.
10:18 a.m. ET - Leahy, a Democrat, ponders during his opening statement: "What responsible gun owner objects to the background check program?" He says he himself went through a background check during a gun purchase.
10:16 a.m. ET - Leahy is delivering his opening statement now. He says Americans must "come together in a common cause."
10:15 a.m. ET - Her minute-long statement over, Giffords left the hearing room accompanied by her husband Mark Kelly.
10:13 a.m. ET - Giffords, a shooting victim, urged Congress to "be bold, be courageous" because "Americans are counting on you" to take steps to reduce gun violence.
10:12 a.m. ET - Speaking slowly and deliberately, Giffords offers a plea to the senators: Act now to end gun violence.
"Violence is a big problem. Too many children are dying. Too many children," she said.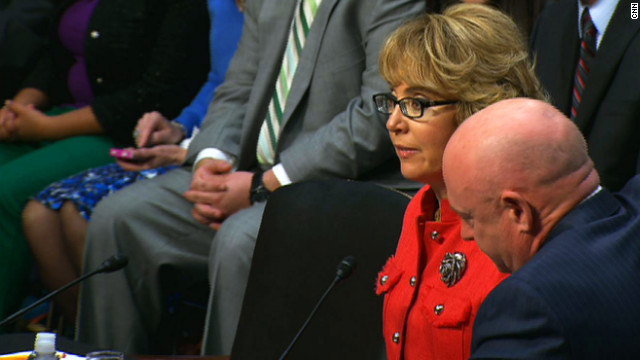 10:11 a.m. ET - Sen. Patrick Leahy, the chairman of the Judiciary Committee, is calling the hearing into order now. He's saying that the Capitol Police have been told to remove any person disrupting the session.
10:09 a.m. ET - Gabrielle Giffords and her husband Mark Kelly are arriving now for the hearing. She's wearing a red jacket and glasses, and is hugging and kissing former colleagues as she walks to her chair.
10:06 a.m. ET - How are members of the Senate Judiciary Committee influenced by the NRA and other gun rights groups? The nonpartisan Sunlight Foundation reports that "campaign records show that the NRA and other gun rights organizations have played a role in the campaigns of a majority of the Judiciary Committee's 18 members."
"Eleven out of the 18 members of the committee have enjoyed the support of gun rights groups, whether through direct contributions or independent expenditures in favor of their campaigns, according to Sunlight's Influence Explorer," the Sunlight Foundation report.s
10:05 a.m. ET - Wayne LaPierre, the executive vice president of the NRA, will tell lawmakers that more gun control laws are not the solution, according to prepared testimony provided by the NRA.
"We need to enforce the thousands of gun laws that are currently on the books," he'll say, according to the prepared statement. "Prosecuting criminals who misuse firearms works. Unfortunately, we've seen a dramatic collapse in federal gun prosecutions in recent years."
10:02 a.m. ET - A look at the packed hearing room in the Hart Senate Office Building - one of the most crowded hearings in recent memory.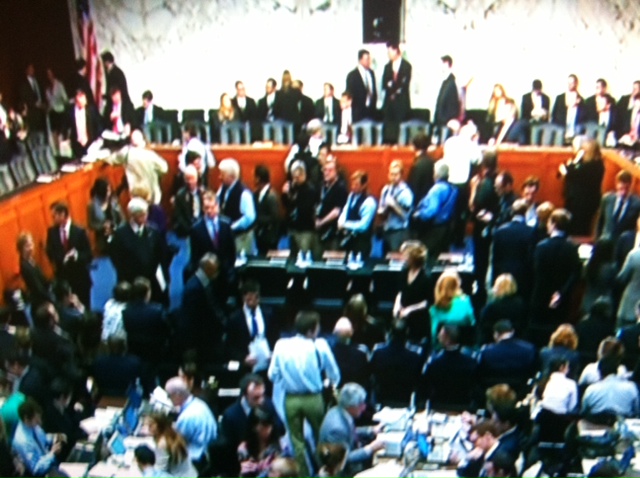 9:54 a.m. ET - Dana Bash reports on attempts by two Republican senators to bring guns to today's hearing.
Despite their attempts, Republican senators Lindsey Graham and Ted Cruz won't bring firearms to Wednesday's hearing on gun control after an unsuccessful attempt at appealing the security rules on Capitol Hill.
"We have not been able to navigate all the red tape and bureaucracy necessary to bring them into the hearing," Graham's spokesman Kevin Bishop told CNN. Wednesday's event, held in the Hart Senate Office Building, is the first congressional hearing on gun violence since the Connecticut school massacre that left 26 people dead.
9:41 a.m. ET - Before the hearing gets underway, CNN Chief Congressional Correspondent Dana Bash reports on long lines to get into the hearing room.