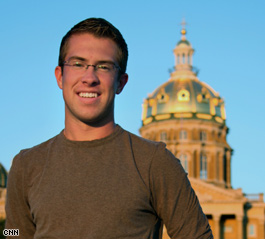 Iowa 2008 campaign producer Chris Welch in Des Moines.
Chris Welch is CNN's 2008 campaign producer based in Des Moines, Iowa. A recent graduate of the University of Nebraska-Lincoln where he studied journalism and political science, Chris has worked as an intern with NBC News Specials in New York and as a reporter at CNN affiliate KTIV in Sioux City, Iowa. He also wrote for CNN.com's college series, CNNU. In addition to his work in the field, Chris was also the winner of the 2006 William Randolph Hearst Journalism Awards' national television broadcast news competition, and has received top prizes from the Society of Professional Journalists for his videography. Chris was named a Top Ten Scholar by the Scripps Howard Foundation.
Click here to email him feedback and news tips.