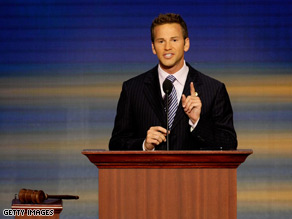 Schock spoke at the Republican National Convention in September of last year.
(TIME.com) - The new Congress that convened this week is the oldest in history, with the average Representative's age rising to a record 57. That's three decades older than Aaron Schock, the youngest member of Congress and the first to be born in the 1980s. The 27-year-old Illinois Republican is already a political veteran: he won a seat on Peoria's school board at 19, rose to school-board president at 23 and then won two terms in the Illinois state legislature. He spoke with TIME about his early success, reaching out to Gen Y voters and the odds of having any fun in Washington.
Most of your colleagues in Congress are old enough to be your parents. How do you see the job differently than they do?
It's a little lonely being the only one in my 20s here. But obviously, I do bring somewhat of a different perspective because I hope to be around as an American citizen for the next 50 years, Lord willing. The programs we're voting on and the policies we're implementing are things my generation will be paying for for the next 50 years. So I look at it in a different light than somebody who may be in their 60s or 70s.
Do you think of yourself as part of Generation Y? How would you describe people your age?
I hadn't until I became a candidate and I was informed that I'd be the first Gen Y Congressman, so I actually started a leadership PAC as a candidate that was titled GOP Generation Y Fund. So I've tried to play off that to my benefit and to the benefit of other young candidates who might be running in the future.
As far as this generation, I think we're a very involved and engaged demographic. I think you saw that in the last election.
Click here to read more on TIME.COM