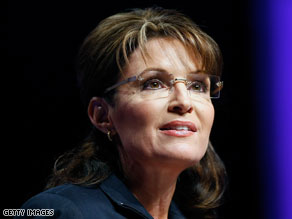 Sarah Palin endorsed Kelly Ayotte in New Hampshire's GOP Senate primary on Monday.
(CNN) - Sarah Palin sided with another "Mama Grizzly" in a prominent Republican primary on Monday, endorsing Kelly Ayotte for Senate in New Hampshire.
The endorsement is Palin's first political move in the state, which will once again hold the first-in-the-nation Republican presidential primary in February 2012. She has already backed midterm candidates in the other key early states of Iowa and South Carolina, but has not visited New Hampshire since the 2008 presidential race.
Ayotte, the state's Attorney General until last year, has three opponents in the GOP primary, but the race has shaped up as a battle between her and Bill Binnie, a millionaire businessman who has given more than $3 million to his own campaign.
"Kelly is the strongest commonsense conservative who can win in the fall," Palin wrote on her Facebook page. "I knew I liked her when I met her earlier this year, and I know this Granite Grizzly will represent New Hampshire with distinction in Washington."
Palin's endorsement is somewhat of a surprise, given Ayotte's sometimes troubled relationship with conservative activists in the Granite State. She won the early backing of the National Republican Senatorial Committee, earning her a reputation as the "establishment" figure in the race.
Having Palin's backing could fix all that, according to several top Republicans in the state.