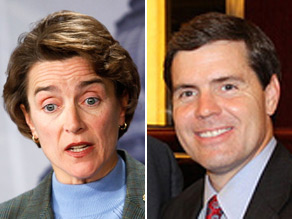 Arkansas Lt. Gov. Bill Halter (right) announced he will launch a primary challenge to Sen. Blanche Lincoln (left).
(CNN) - Add a primary challenge to Sen. Blanche Lincoln's growing list of political problems.
Arkansas Lt. Governor Bill Halter announced Monday morning that he's launching a Democratic primary challenge to Lincoln, who was already facing a tough re-election battle this year.
"Washington is broken. Bailing out Wall Street, with no strings attached while middle class Arkansas tax payers with the bill. Protecting insurance company profits instead of patients and lowering health costs. Gridlock, bickering and partisan games while unemployment is at a 25 year high. Enough is enough. It is past time to put more Arkansas values in Washington," said Halter in an anti-incumbent message in a video posted on his Web site.
Four progressive organizations, the Progressive Change Campaign Committee, Democracy for America, MoveOn.org, and Daily Kos, released an e-mail pledging to raise half a million dollars over the next week for Halter, who worked in President Bill Clinton's administration. Halter is expected to formally announce his primary bid Tuesday when he files papers of candidacy at the state capitol in Little Rock.