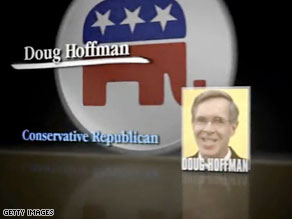 Conservative Club for Growth, which is backing third-party candidate Doug Hoffman, calls Republican Dede Scozzafava and Democrat Bill Owens 'two liberals'.
(CNN) – If Democrat Bill Owens manages to claim victory in next month's special congressional election in upstate New York, he'll have some unlikely benefactors to thank.
In an echo of the Sen. Arlen Specter-Pat Toomey fight that prompted the Pennsylvania senator to abandon the GOP - many of the toughest attacks on the Republican nominee, state assemblywoman Dede Scozzafava, are coming from voters who identify themselves as conservatives. The catcalls from the right became a chorus Thursday, with simultaneous noon editorials from major conservative media outlets - including the National Review, Washington Times, and RedState.com - all calling on Scozzafava to withdraw from the race, citing a run-in earlier this week with a conservative journalist.
The GOP candidate, said the Washington Examiner, "should withdraw from the special election campaign for New York's 23rd congressional district. And donors to the Republican National Committee (RNC) and the National Republican Congressional Committee (NRCC), which funded Scozzafava, should demand their money back."
The national party re-affirmed its support for Scozzafava. "The NRCC supports Dede in this race," said National Republican Congressional Committee spokesman Paul Lindsay. "We will continue to remind central and northern New Yorkers that a vote for Doug Hoffman or Bill Owens is a vote for Nancy Pelosi and her far left, radical agenda."
Both Owens and Scozzafava - but particularly the Republican candidate - have been hit hard by conservatives backing third-party candidate Doug Hoffman, who has now pulled within single digits of the GOP's pick in the most recent survey of district voters.
The campaign for this House seat is the latest display of disaffection from the conservative base over the national GOP's recent candidate recruitment efforts. Hoffman has nabbed the backing of New York's Conservative Party, which generally supports Republican nominees – a nod that, in a state where candidates can run under multiple party lines, can often provide the edge in narrow races.
(Update after the jump: Sarah Palin weighs in)