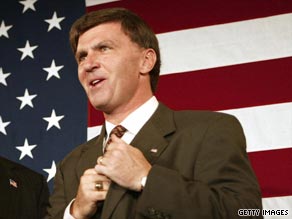 Ehrlich will make a bid to get his old job back.
(CNN) – Another former governor has announced he wants his old job back this November.
Republican Bob Ehrlich, who lost his re-election bid as Maryland's chief executive in 2006, told supporters in an e-mail Tuesday that he will make another run for the office he held from 2003 to 2007. He will officially kick off his campaign on April 7 with events in heavily Democratic Rockville and in Baltimore County, the area he represented in Congress for eight years.
"Are you ready to take back Maryland?" said Ehrlich in a letter sent to his campaign e-mail list. "Then I hope you'll join me on Wednesday, April 7th as I announce my candidacy for Governor of Maryland."