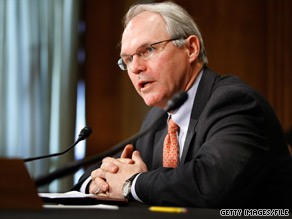 Chris Hill, the U.S. Ambassador to Iraq, said Monday that Iraqis 'deserve congratulations' for this weekend's elections.
Baghdad, Iraq (CNN) - Iraq's elections "really went very, very well" and the "Iraqi people deserve a lot of congratulations from us," the United States' ambassador to Baghdad said Monday.
"The election was supported by the overwhelming majority of Iraqi people," Christopher Hill told CNN's "American Morning" program, saying there was "a great deal of support for this political process."
Hill was speaking a day after millions of Iraqis turned out to cast ballots for the country's parliament, despite the ongoing threat of violence.
Militants intent on disrupting the vote carried out dozens of attacks, leaving 38 people dead.
Gen. Ray Odierno, the top U.S. military commander in the country, said most of the casualties came from a single incident when bombers collapsed an apartment building in Baghdad, portraying the overall level of security nationwide as good.
"In the rest of Iraq, it was extremely peaceful," he said. "I was very impressed with the coordination and work done by the Iraqi security forces."