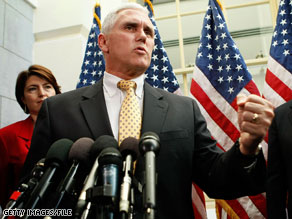 A top conservative group is pressing Rep. Mike Pence, R-Indiana, to run for Senate.
Washington (CNN) – In the wake of Republican Scott Brown's surprising win in this week's Senate special election in Massachusetts, the anti-tax Club for Growth is publicly urging Indiana Rep. Mike Pence, R-Indiana, to challenge Sen. Evan Bayh this fall.
Pence is a hero to small-government conservatives who has beefed up his political operation in recent months along with making travels to states like Iowa and South Carolina, sparking talk that he is eyeing a White House run in 2012. Pence has also been mentioned as a potential successor to Indiana Gov. Mitch Daniels after Daniels' second term expires in 2013.
But the Club for Growth wants Pence to jump in the Senate race instead. Chris Chocola, the Club's president, said in a statement Thursday that Brown's win in Massachusetts "confirms that Indiana is a winnable race for a principled advocate of economic freedom and limited government."
"Mike Pence can beat Evan Bayh in November, and I join pro-growth conservatives in Indiana and around the country in hoping that he does," Chocola said.
On Wednesday, Pence confidante Tony Perkins - the president of the conservative Family Research Council - suggested to CNN that Pence isn't likely to run against Bayh. "I think he is positioned to move, but I just don't know if the Senate is where he will be," Perkins said.