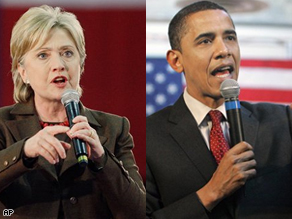 Gergen: Watch the margins on March 4.
(CNN) - A year and a half ago, I hired a young graduate from Brown, Jeremy Haber, to become my research assistant. He has quickly developed one of the finest eyes I have seen in politics, and as we await the verdicts of the voters today, I am paying increasing attention to his latest advice: "Watch the margins."
As Jeremy has figured out, the way Democrats award delegates will mean more than one might think in today's contests. Hillary Clinton is now favored in Ohio, but if she were to win there by less than 5 points, she would likely only gain a few more delegates in the state than Obama does. She has to win by 5 or more to harvest a sizable number of delegates — to cut into Obama's pledged delegate lead — and by all indications, that will be hard.
To read more and contribute to Anderson Cooper's discussion click here
Related: Gergen: Heading into Ohio and Texas, and keeping score . . .