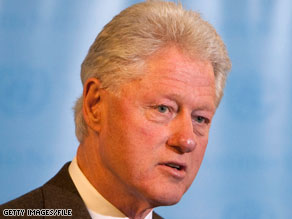 Former President Bill Clinton responded to questions posed by Digg users.
New York (CNN) - Former President Bill Clinton recommended on Thursday that every big landfill in America be closed. The statement was in response to a question posed not by a journalist, but by a Digg user.
President Clinton approached Digg, a social voting site, about engaging their community on questions for an "Earth Day Digg Dialogg." Recent participants in Digg Dialogg include Al Gore and Toyota executive Jim Lentz. For the discussion with Clinton, users were able to submit questions, which members of the community voted on. The former president was filmed answering the top six questions on Monday in New York and the video aired Thursday.
Users submitted over 900 questions during a 24-hour period last week. Top questions selected by the Digg community, made up of over 40 million active users, included what the inherent problems are with electric cars, Clinton's thoughts on whether or not Glacier National Park will be around for the next generation, and immediate steps of action people can take to help combat climate change.