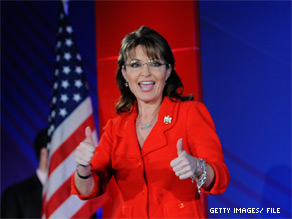 In a fundraising email to supporters, Sarah Palin's political action committee announced that the former Alaska governor has reached 2 million fans on Facebook.
(CNN) – Former Alaska Gov. Sarah Palin has reached a new milestone: 2 million fans on Facebook.
SarahPAC, Palin's political action committee made the announcement in the form of a fundraising email sent to supporters on Thursday.
"On behalf of Sarah and SarahPAC, I want to thank everyone for their support and encouragement, especially on Facebook, where Sarah has just passed 2,000,000 fans," the email from SarahPAC treasurer Tim Crawford says.
"Over the last year and a half, we have received an outpouring of encouragement and support from people across this great nation. During that time, Sarah has used her Facebook account as an outlet to express her hopes and concerns about the direction of the country."
Palin has used the social media site, which has more than 500 million users, to issue a slew of endorsements in advance of the 2010 midterm elections.