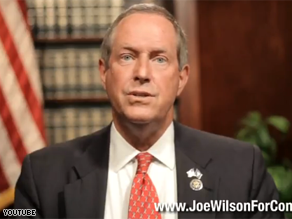 Wilson used a Web video last week to raise money after being criticized by Democrats.
WASHINGTON (CNN) - As House Democrats march forward with plans to formally reprimand Republican Joe Wilson for calling President Obama a liar during last week's joint address to Congress, Wilson's supporters back home in South Carolina have a straightforward response: Bring it on.
"I hope they do it," said Rich Bolen, who chairs the Republican Party in Lexington County, where Wilson lives. "The longer this story stays alive, the better it is for the conservative point of view. It means the Democrats aren't talking about health care and moving the ball forward. They're giving Wilson a ton of traction."
After Wilson rejected calls from Democrats to apologize on the floor of the House for his outburst, House leadership moved ahead with plans to vote Tuesday on a "resolution of disapproval" against the congressman.
But Wilson's supporters in South Carolina are hardly running from the resolution - they're embracing it.
GOP campaign operatives in the state argue that the vote will give Wilson yet another chance to raise money and rally party activists ahead of next year's election in the conservative-leaning 2nd Congressional District, which hasn't voted for a Democrat in 46 years.