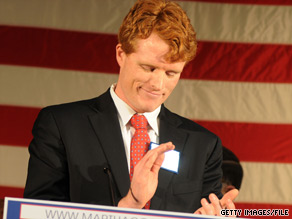 Joseph Kennedy III said Monday that he would not run for statewide office in 2010.
(CNN) - Joseph P. Kennedy III, the 29 year-old grandson of Robert Kennedy, has closed the door on a potential 2010 congressional bid, the latest member of the Kennedy family to forgo a bid for state-wide office.
Kennedy, whose father Joseph P. Kennedy II, was a six-term Congressman from Massachusetts, had been widely floated as a possible replacement to current Rep. Bill Delahunt, should Delahunt decide to retire.
Speaking to the Boston Globe, Kennedy, a recent Harvard Law School graduate, said he enjoys his current post as assistant district attorney covering the state's Cape Cod region.
"I think that we've got a great congressman. He continues to serve the people of the 10th District well," he said. "I'm a longtime supporter of his, and I hope he runs again."
But Kennedy is not ruling out a future run for Congress.