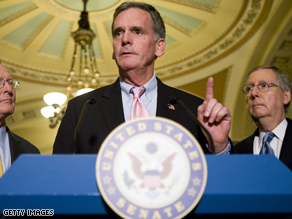 Gregg confirmed Friday he is under consideration to be the next Commerce Secretary.
(CNN) - Republican Sen Judd Gregg of New Hampshire confirmed Friday he is under consideration to be President Obama's Commerce Secretary.
"I am aware that my name is one of those being considered by the White House for Secretary of Commerce, and am honored to be considered, along with others, for the position. Beyond that there is nothing more I can say at this time," Gregg said in an issued statement.
Sources told CNN Thursday that while Gregg is being considered for the post, it's not a done deal. In fact, a Democratic source said it's not just that Gregg hasn't decided if he wants the position but that there is actually another leading candidate.
"The President hasn't made a decision," White House Press Secretary Robert Gibbs told CNN. He adds on Gregg specifically, "I'm not going to get into the political name game."
Senate Majority Leader Harry Reid said Thursday he had heard Gregg was being considered, but would not say whether he has been in contact with the Obama administration about it.