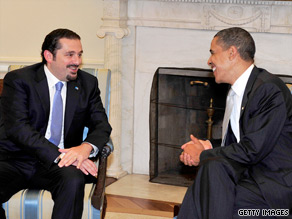 President Obama met Monday with Lebanese Prime Minister Saad Hariri.
Washington (CNN) - Lebanese Prime Minister Saad Hariri met with President Barack Obama on Monday for a discussion tackling a range of security issues relating both to Lebanon and the broader Middle East, according to the White House.
The meeting was part of Hariri's first official visit to Washington after assuming office. It was also the first face-to-face talk between the two men since the United States moved to put an ambassador back in Syria, a country with which Lebanon has a difficult relationship.
Washington pulled its ambassador from Damascus in 2005, after Hariri's father, former Prime Minister Rafik Hariri, was killed in a huge car bombing, which the United States blamed on Syria. Syria denied the accusations, but an investigation by a United Nations Special Tribunal found Syrian government involvement.
The 2005 bombing led to massive protests in Lebanon, prompting Syria to withdraw the troops it had kept in Lebanon for decades.
Obama "commended (Hariri) for his leadership and for carrying on his father's legacy," a White House statement noted. They "reaffirmed their commitment to strengthening Lebanon's sovereignty and independence and to continuing a wide-ranging and long-term partnership." The two leaders "reviewed progress on bilateral and regional issues, such as our work toward a comprehensive Arab-Israeli peace."