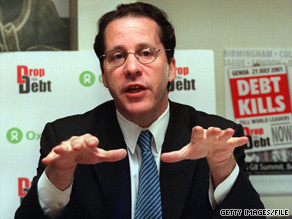 Sources tell CNN that Gene Sperling will fill the No. 2 job at the Office of Management and Budget.
Washington (CNN) – Two Obama administration sources told CNN Thursday that plans are in the works to shift Gene Sperling from a senior Treasury Department role to the No. 2 job at the Office of Management and Budget. But the No. 1 man at the OMB, Director Peter Orzag, sent word late in the day that he "has not offered the job to anyone."
That statement, delivered through Orzag deputy and lead spokesman Kenneth Baer, the OMB's assistant director for communications and strategic planning, reflected internal tensions over the prospect of Sperling moving to the OMB.
Sperling now serves as counselor to Treasury Secretary Timothy Geithner. The job of deputy director of the Office of Management and Budget became vacant last month when
Robert Nabors left the No. 2 budget job to become a senior adviser to chief of staff Rahm Emanuel. The Washington Post reported back then that Sperling was among the candidates to replace Nabors.
The two sources, who spoke to CNN on Thursday, said Sperling was the White House choice for the job, and was undergoing the vetting process. The OMB job requires Senate confirmation; Sperling's current Treasury position did not. A third source was somewhat less definitive, saying the shift was "probable," but not certain because the vetting process was not completed. All three sources are administration officials involved in economic policy who discussed the issue only on condition of anonymity because it is a personnel matter.
After seeing a brief CNN report on the issue, Baer contacted CNN and disputed the process was as far along as the other sources had suggested. "Director Orzag has talked with Gene about this job," Baer said. "He also has talked with other candidates. He has not offered the job to anyone … Nothing has been decided. No job has been offered."