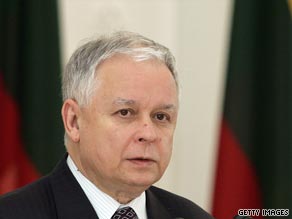 Poland President Lech Kaczynski died in a plane crash in Russia.
(CNN) - World leaders, agencies and officials mourned the death of the Polish president, killed in a plane crash early Saturday.
President Barack Obama:
– "Today's loss is devastating to Poland, to the United States, and to the world. ... Today, there are heavy hearts across America. The United States cherishes its deep and abiding bonds with the people of Poland."
Former President George W. Bush
– "Laura and I are deeply saddened by the deaths of Polish President Lech Kaczynski, his wife Maria, and all those aboard their airplane.  President Kaczynski was a strong defender of freedom and a friend to the United States.  Laura and I have fond memories of our visits with the President and Maria. On this sad day, we send our heartfelt condolences to people of Poland, and especially to the families of all those lost in this tragic accident.  We will keep them in our thoughts and prayers. "
The U.S. State Department spokesman P.J. Crowley:
– "This is a horrible tragedy for Poland. We extend to the people of Poland our deepest condolences."
More reactions after the jump