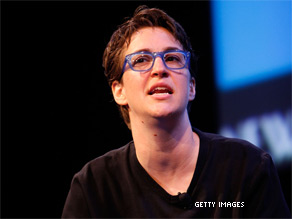 'I'm not running against Scott Brown,' Maddow wrote.
Washington (CNN) - An MSNBC host has taken a full page ad out Friday in The Boston Globe slamming Sen. Scott Brown, R-Massachusetts.
Rachel Maddow accuses the senator of making things up, and smearing her to raise money and, essentially, insulting Massachusetts.
In the ad, Maddow, who lives in Massachusetts, criticizes Brown for a fundraising e-mail that he sent out this week where he suggests she might challenge him in 2012.