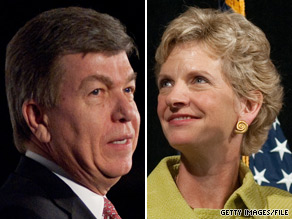 A new poll shows Republican Rep. Roy Blunt (left) leading Democrat Robin Carnahan by six points in the battle for Missouri's open Senate seat.
(CNN) – A new poll in Missouri provides more evidence that President Barack Obama and his administration's agenda are hurting more than helping Democratic candidates running in moderate to conservative states in this year's midterm elections.
The president's approval rating stands at 34 percent in Missouri, according to a new Mason-Dixon survey conducted for the St. Louis Post-Dispatch and KMOV-TV, with 57 percent saying they disapprove of the job Obama's doing in the White House.
The poll, released over the weekend, also indicates that in the battle for Missouri's vacant Senate seat, seven-term Republican Rep. Roy Blunt leads Democratic Secretary of State Robin Carnahan 48 percent to 42 percent, with one in ten likely voters undecided.