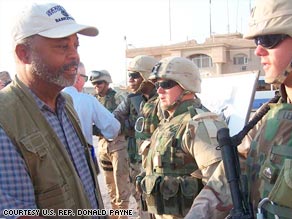 U.S. Rep. Donald Payne, D-New Jersey, meets with soldiers in Iraq in an undated photo.
(CNN) - A plane carrying U.S. Rep. Donald Payne was fired on at the airport in Mogadishu, Somalia, but the plane and its passengers appear to have departed safely, a spokeswoman for the congressman said Monday.
"We understand that his plane was fired on and, as he left, we understand that a mortar landed on his plane, but that they have left safely and that no one was hurt," said Kerry McKenney, the spokeswoman in his Washington office, citing police officers at the airport as her source. "We are hoping that he's safe and on his way back home."
The New Jersey Democrat and chairman of the Subcommittee on Africa and Global Health was visiting Somalia because "he felt it was important to travel there to see first-hand what was happening," McKenney said.