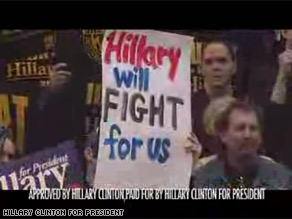 Sen. Clinton has launched a new television and a radio ad in South Dakota.
(CNN) – Sen. Hillary Clinton's campaign released two new South Dakota ads Tuesday.
The television ad "Responsibility" targets President Bush rather than her primary rival Sen. Barack Obama – the latest in a string of positive television spots from the New York senator.
"George Bush's spending has sent the economy in a tailspin and put Social Security in jeopardy," says the announcer in the 30-second spot. "Hillary Clinton will stop spending money America doesn't have."
"I will get us back to fiscal responsibility," says Clinton, in a clip drawn from her stump speech.
The 60-second radio ad, "Matters," takes a veiled swipe at Obama and his supporters. "Some people say the presidential primary in South Dakota doesn't much matter. That your voice doesn't really count," says the announcer. But the bulk of the firepower is directed at Bush's management of federal spending.
(Full script after the jump)