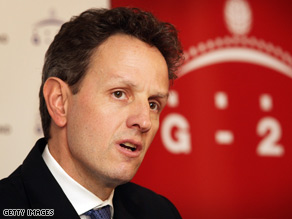 Treasury Secretary Tim Geithner attended the G20 meeting Saturday in Horsham, England.
HORSHAM, England (CNN) - "A strong consensus both for recovery and reform" emerged from the G20 meeting of financial leaders that ended Saturday near London, U.S. Treasury Secretary Timothy Geithner said.
"This is a global crisis, and it requires a coordinated, global response," he said at a news conference. "We have a broad base of consensus to act aggressively to restore growth."
"You are seeing the world move together at a speed and on a scale without precedent in modern times. All the major economies are putting in place substantial fiscal packages," he said. "The stronger the response, the quicker recovery will come."
Recommendations from the G20 financiers will be passed on to the G20 Summit next month in London. They include a substantial increase in support for the International Monetary Fund and an expansion of the IMF's membership, Geithner said.