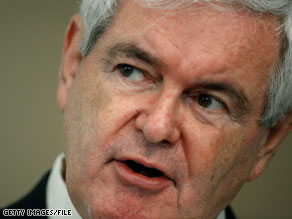 Newt Gingrich visited the key presidential primary state of South Carolina last week.
Washington (CNN) - Fresh off a visit to South Carolina that featured fundraisers for the state Republican party and GOP House candidate Tim Scott, Newt Gingrich turned his weekly newsletter into an ode to the key presidential primary state.
Newt praised Scott and Republican gubernatorial nominee Nikki Haley, two fresh-faced candidates with unabashedly conservative views, as "signs of profound change."
"Change has come to South Carolina, and it is a story worth studying as the country wrestles with bad government policies, a bad economy, big deficits, incompetent bureaucrats, and arrogant politicians," Gingrich wrote Wednesday in his newsletter, which is distributed by the conservative magazine HumanEvents.com.