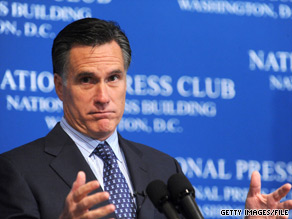 Romney will get tough on President Obama during a speech in Washington Friday.
Washington (CNN) - Expect some tough language Friday from past and probable future presidential hopeful Mitt Romney when he speaks before a national conference of conservative activists.
The former Massachusetts governor is expected to aim much of his pointed remarks towards the White House and Democratic leaders in Congress when he address the Values Voters Summit, which is being held in the nation's capital. Over the past year, the 2008 GOP presidential candidate's been quite critical of President Barack Obama.
"Welcome to the Nancy Pelosi-Harry Reid-President Obama farewell party. This has been a pretty tough year for those three - their numbers have gone down the chute faster than a Jet Blue flight attendant," says Romney, according to excerpts released prior to his speech.
Romney is also expected to criticize the Democrats for their economic agenda, saying, "We have had governments declare war on poverty and a war on drugs, but this is the first time our government has declared war on free enterprise."