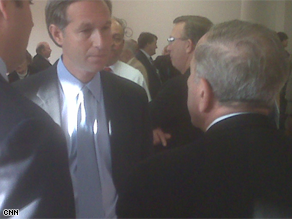 CNN's Gary Tuchman tried to catch up with Sen. Ted Stevens Sunday.
Senator Ted Stevens has never been known as a big fan of the news media. So we knew getting him to talk to us on camera following seven felony guilty verdicts against him would be a bit challenging. He hadn't done a TV interview since the verdicts. Ultimately, he did do an interview with us. But making that happen took us on an unusual journey.
On Sunday, we went to interview his Democratic opponent in the Senate race, Anchorage Mayor Mark Begich. The mayor was at a candidate forum in the entry way of a large Baptist church that was full of candidate posters, pamphlets, and balloons. As we were getting ready to greet Begich, we saw to our surprise that Senator Stevens was also shaking hands about 30 feet away from his opponent.
I came up to the 40-year Senate veteran, introduced myself, and asked him on camera if he was angry about the guilty verdicts. He told me "not that angry. I'm angry at you guys 'cause I'm trying to visit with friends; I just see them once or twice a year." I then mentioned because he was campaigning we wanted to see if he would talk, and he objected since we were doing this in a church. I mentioned to him that there was some lively campaigning going on in this entry way, but that didn't seem to matter to him.

Read more from the AC360 Blog