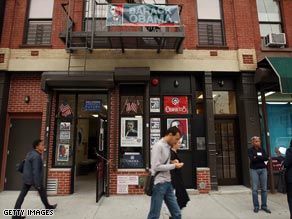 Obama headquarters in Harlem today.
(CNN) - In the heart of Harlem - A 50-foot Jumbotron has been set up outside the Adam Clayton Powell Jr. State Office Building. It's the first time something like this has been done here. Every time numbers come in favoring Obama, a cheer goes up from the crowd, "O-BAH-MA."
I sat in Maya Angelou's living room in a restored brownstone several blocks away earlier. She said she felt an eagerness in Harlem she hadn't felt since the 1960s. She said in recent months, you "couldn't walk the streets without people stopping you and saying isn't it exciting. Spanish people stop other people who don't speak Spanish and say isn't it a good time. Of course it's contagious. If you don't have it, you'll get it."
Longtime civil rights activist Hazel Dukes was working at a poll site earlier in the day. She said seniors in wheelchairs and walkers stood in line with first-time voters. She said 6-, 7- and 8-year-olds spoke of how proud they were that their moms were voting for Obama. Dukes, who knew Medgar Evers before he was slain while registering voters in Mississippi, said this election culminates what she and others have been working toward as civil rights leaders for the last 30 years.