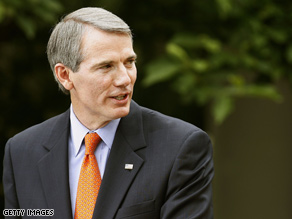 Portman will be on hand the day McCain is expected to name his VP.
(CNN) - Former Rep. Rob Portman - who reportedly figures high on John McCain's VP shortlist - will attend the major campaign rally in Dayton, Ohio next week where the presumptive Republican nominee is expected to make his vice presidential announcement, amid mounting speculation the former Ohio congressman may join the GOP ticket.
Portman representative Rob Lehman confirmed that the former Bush official would be on hand at the event - which is scheduled for Friday, just hours after the Democratic convention officially ends - but added that his presence at the rally is not unusual. "He always tries to attend events when McCain is in Ohio," Lehman told CNN.
Portman campaigned on McCain's behalf last week in Indiana.