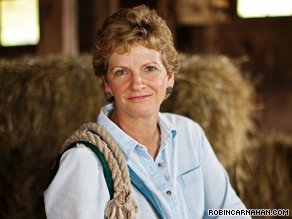 Fox News has sued the campaign of Missouri Senate candidate Robin Carnahan.
Washington (CNN) - Fox News has sued the Senate campaign of Democrat Robin Carnahan in Missouri, claiming improper use of an interview by the cable channel with her opponent Roy Blunt for a "smear ad."
The 2006 interview with Fox's Chris Wallace was used in a recent Carnahan ad, implying the journalist was supporting Blunt – a Republican congressman. The lawsuit says Wallace, as host of "Fox News Sunday," had asked Blunt about the congressman's efforts to become a permanent House Majority Leader. He served in that post in an interim fashion from 2005-06.
In a lawsuit filed in Kansas City Thursday, Fox News claims copyright infringement and invasion of Wallace's privacy. In a 14-page filing, the Democrat's campaign was accused of violating "FNC's valuable and proprietary creative expression" by using the news clip without permission. "The Carnahan ad is designed to make it appear as if Wallace- a trusted journalist- is instead speaking as a campaign operative," said the complaint.

Read the lawsuit here