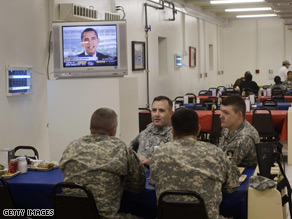 A Federal Judge in Virginia ordered election officials to hold on to late-arriving ballots from Military members.
WASHINGTON (CNN) - A federal judge on Tuesday ordered Virginia election officials to hold on to late-arriving absentee ballots from members of the military stationed overseas.
Republican John McCain's presidential campaign has sued the state election board, contending tens of thousands of votes from those in the armed forces might be voided unless a deadline is extended.
Judge Richard Williams ordered a hearing on the lawsuit next Tuesday afternoon in Richmond, and said in the meantime, those ballots will be set aside and preserved.
At issue is whether Virginia officials allowed enough time to print and mail ballots to military members in foreign countries who requested them.