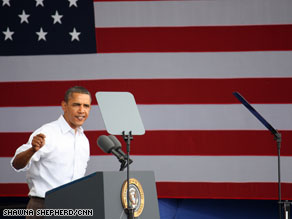 President Obama delivered a fiery speech Monday in Wisconsin.
Milwaukee, Wisconsin (CNN) - When President Barack Obama rolled out a $50 billion six-year infrastructure proposal Monday, thousands who gathered in Milwaukee were eager to hear his message.
Among them was Henry Haggler. He's worked at a Harley-Davidson plant in Menomonee Falls, Wisconsin, for almost 16 years.
Haggler has seen cutbacks and layoffs, and now worries about how much more the company will ask his United Steelworkers Union to give up. "We're trying to negotiate a new contract, and their thing is they're trying to whipsaw us," he said, adding "we have a lot of hard working union people, and they're Americans, OK, and we sacrificed a lot."