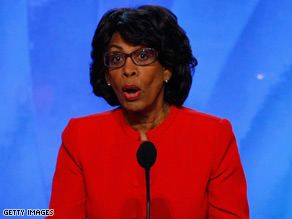 Rep. Maxine Waters, D-California, says she did nothing wrong in accepting help for a minority-owned bank that her husband holds stock in.
WASHINGTON (CNN) – California Democratic Congresswoman Maxine Waters maintains she did nothing wrong when she sought federal help last fall for a minority-owned bank in which her husband owns stock.
Waters, a senior member of the House Financial Services Committee, confirmed Friday that she set up a meeting last September with Treasury Department officials to address concerns from minority-owned banks impacted by the government takeover of Fannie Mae and Freddie Mac, including OneUnited Bank.
Waters' husband, Sidney Williams, had been on the board of OneUnited Bank until last April, and still owns stock that was worth between $250,000 to $500,000 at the end of 2007, when Waters last filed congressional disclosure forms.
According to the New York Times, the chief executive of OneUnited used the meeting to ask for $50 million in bailout funds. The Times reported that Treasury officials attending the meeting, including Jeb Mason, did not know at the time about Waters' ties to OneUnited Bank. Waters did not attend the meeting but did send her chief of staff.
In a statement released Friday, Waters says the meeting with Treasury officials was requested by the National Bankers Association (NBA), the trade organization for minority-owned banks and that she followed up on the request, as did other members of Congress.
"Recent press reports have raised questions about my advocacy on behalf of minority banks. Ultimately, however, these articles only revealed one thing: I am indeed an advocate for minority banks," said Waters.