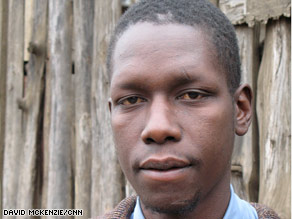 George Obama was arrested in Kenya on a charge for possession of marijuana, according to police.
NAIROBI, Kenya (CNN) - George Obama, the half brother of President Obama, told CNN on Sunday that he was released from a Kenyan jail hours after his arrest for possession of marijuana.
Kenyan police did not confirm whether Obama is still in their custody.
Obama spoke to CNN from his cell phone, and a family member also said he was released.
He said he was arrested on Saturday and released later the same day.
Inspector Augustine Mutembei said Obama was arrested for possession of cannabis, known in Kenya as Bhang, and for resisting arrest. He was being held at Huruma police post in the capital, Nairobi.
He was scheduled to appear in court Monday, Mutembei said.
But Obama told CNN that all charges had been dropped against him.