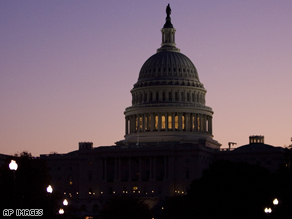 (CNN) - Updated - Even as Democrats increase their control of the Senate, their eyes are on four crucial Senate races in their increasingly uphill battle to reach a filibuster-proof Senate majority of 60 seats. At this point, the Democrats must win seats in Alaska - where Republican Ted Stevens is running for re-election after being convicted on seven federal corruption charges last month - Georgia, Minnesota and Oregon to get to that crucial number. Georgia requires the winner to get 51 percent of the vote or there will be a runoff.
At this point, the Democrats have increased their majority to at least 56 seats by picking up five seats in Tuesday's elections. In a hotly contested fight in North Carolina, Democrat Kay Hagan, a state senator, ousted Republican Sen. Elizabeth Dole, a Cabinet secretary in the Reagan administration. Rep. Mark Udall captured a seat held by retiring Republican Sen. Wayne Allard of Colorado. In New Hampshire, former Gov. Jeanne Shaheen defeated incumbent Sen. John Sununu. That was a rematch of the 2002 race, when Sununu defeated Shaheen.
In New Mexico, Rep. Tom Udall won the seat being vacated by retiring Sen. Pete Domenici, a Republican. The projected winner of Virginia's open Senate seat, Democratic former Gov. Mark Warner, will fill the seat of retiring Sen. John Warner, a Republican. The two Warners are not related.
According to CNN's projections, 12 Democrats have kept their seats. They are Sen. Mark Pryor of Arkansas, vice presidential candidate Sen. Joe Biden of Delaware, Sen. Dick Durbin of Illinois, Sen. Tom Harkin of Iowa, Sen. Mary Landrieu of Louisiana - who faced a tough re-election bid - Sen. John Kerry of Massachusetts, Sen. Carl Levin of Michigan, Sen. Max Baucus of Montana, Sen. Frank Lautenberg of New Jersey, Sen. Jack Reed of Rhode Island, Sen. Tim Johnson of South Dakota and Sen. Jay Rockefeller of West Virginia. Delaware's Democratic governor will appoint a replacement for Biden, who was elected vice president.