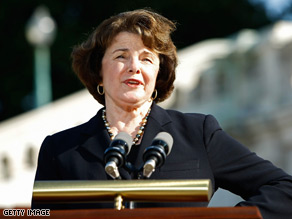 Sen. Dianne Feinstein said she will hold a hearing on the matter.
WASHINGTON (CNN) - U.S. intelligence officials said Thursday they have added new safeguards to prevent the government from unlawfully spying on U.S. citizens after a routine check of the system "detected issues that raised concerns."
Intelligence officials declined to specify the nature of the problem. But in a prepared statement, Director of National Intelligence Dennis Blair said that on occasion, the National Security Agency "has made mistakes and intercepted the wrong communications."
Officials characterized the wrongful intercepts as inadvertent and not nefarious. But some lawmakers said the matter reveals holes in the systems Congress established last year to ensure the country's vast intelligence gathering bureaucracy would not be used unconstitutionally to collect information about U.S. citizens.
"These are serious allegations and we will make sure we get the facts," said Sen. Dianne Feinstein, D-California, chair of the Senate Intelligence Committee. Feinstein said she will hold a hearing on the matter.