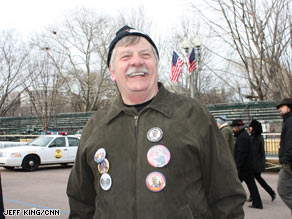 Ohio school teach Norm Huber sported a half dozen buttons as he walked along the inaugural parade route Saturday afternoon.
WASHINGTON (CNN) - Visitors were showing off their Obama pride outside the White House Saturday as the reveled in the anticipation of the President-elect's impending inauguration.
School teachers Pat Hargis from Bucyrus, Ohio and Norm Huber from Crestline, Ohio showed off their best Barack Obama buttons as they perused the inaugural parade route on Pennsylvania Avenue. The teachers were in town with their colleague Carolyn Helbert to see as many of the events as they could. As for their students, they'll have to wait until February to come to Washington. Right now, "it's too crazy," said Hargis.
The inauguration won't be the first time the three friends have crossed paths with the President-elect and the Vice President-elect. The three previously met Barack Obama and Joe Biden on the campaign trail when the two men courted voters at rally in Dublin, Ohio last year.
Helbert told Biden he had a cute smile and Biden said she had a cute smile too.
"That's Carolyn's claim to fame," Hargis said Saturday.
Not far from the three friends, a group of dancers from Washington calling themselves "Dancers for Change" was also staging what they called a "happy protest."