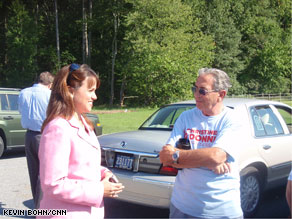 FreedomWorks declined to endorse Delware Republican Senate candidate Christine O'Donnell Monday.
Lewes, Delaware (CNN) - Christine O'Donnell says "it's a shame" that a major conservative grassroots organization is deciding not to endorse her conservative bid for Delaware's Republican Senate nomination.
Monday two of the top members of FreedomWorks declined to endorse O'Donnell, a conservative commentator who is facing off against moderate Republican Rep. Mike Castle for their party's nomination in Tuesday's primary.
At a Christian Science Monitor Breakfast in Washington DC, FreedomWorks President Matt Kibbe said "we've stayed out of that race because we're not convinced that Christine O'Donnell can win."
And when asked by reporters at the breakfast whether "it's better for Republicans to lose with a Tea Party-backed candidate than to win with a mainstream Republican candidate," FreedomWorks Chairman and former House Minority Leader Dick Armey said "no."