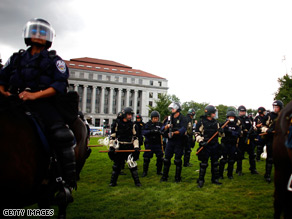 Police were on guard Thursday at the Republican National Convention in St. Paul.
ST. PAUL, Minnesota (CNN) - Police arrested about 200 people after using tear gas and percussion grenades Thursday night to disperse a crowd of protesters who had gathered near the State Capitol, about a mile from the site of the Republican National Convention.
Minnesota State Public Safety Commissioner Michael Campion said the arrests were made at an Interstate overpass that separated the marchers from the Xcel Center, where Sen. John McCain was preparing to address the GOP faithful.
He said the objective was to contain the protestors and keep them from reaching the convention hall.
Police fire gas when dozens of marchers - most of them in their 20s, some chanting "F...... the police! F...... the police! F...... 'em!" - tried to cross the overpass after being warned not to.
As a line of police clad in riot gear and walking with bicycles approached a woman who refused to get out of their way, several sprayed her with a liquid. She covered her eyes with one hand and raised two fingers of the other hand in both hands in a vee.
A man standing nearby yelled, "I love you! Why are you doing this?" as the woman was shoved to the pavement.
Each time the protesters attempted to cross the highway that separated them from the convention center by about a mile, police attempted to stop them.
At one point, police on horses, motorcycles and bicycles followed marchers on a street-to-street chase that led through a shopping mall parking lot.