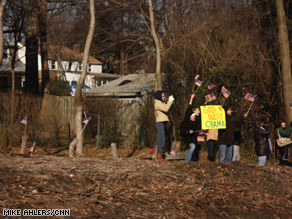 It looked as though Obamamania had somehow missed this place.
EDGEWOOD, Maryland (CNN) - When we first got to the little train stop here it looked as though Obamamania had somehow missed this place.
Watch: The Obama Express makes a 'slow roll' through Edgewood
Okay, admittedly President-elect Obama's train was only supposed to slow-roll through town on its way to Baltimore and eventually Washington. So people who took the time to come out here weren't exactly promised a chance to meet and shake the hand of the next president.
Around 11 a.m. or so it looked like there were maybe 60 to 80 people in line. But once the Secret Service started letting people in, the numbers just grew and grew pretty much continuously.
Turns out this town has a real special place in its heart for Obama - one of the townies told me Obama's train was passing thorough the only precinct in all of Harford County that went for Obama in the last election.
Another example of the Obama enthusiasm was that people who were the first to get in told me they were waiting at 5:30 a.m.
And even though we were only 50 or 60 miles from Washington, most of the people I talked to said this would be the one and only inaugural event they would attend.
Without a doubt people gave some serious consideration to going to D.C. But a lot of people were dissuaded by predictions of multimillion-person crowds. One told me he wasn't interested in the kind of craziness.