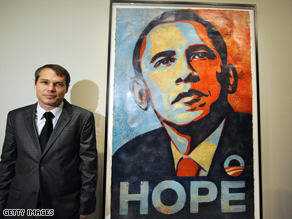 Fairey stands next to his famous depiction of Obama at the National Portrait Gallery.
NEW YORK (CNN) - The street artist who created the ubiquitous red, white and blue Obama "Hope" posters filed a federal lawsuit Monday against The Associated Press, which last week accused him of copyright infringement, according to court papers.
The papers argue that Shepard Fairey, 38, did not violate the AP's copyright on the 2006 photo of Obama, taken by AP photographer Mannie Garcia, upon which Fairey based his work.
The court documents, filed in Manhattan, argue that "Fairey transformed the literal depiction contained in the Garcia photograph into a stunning, abstracted and idealized visual image that creates powerful new meaning and conveys a radically different message that has no analogue in the original photo."
A copy of Fairey's poster currently hangs in the Smithsonian's National Portrait Gallery in Washington.