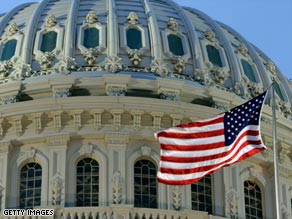 Some House Republicans refused to leave once the congressional recess for August began on Friday afternoon.


WASHINGTON (CNN) – The microphones were off and the lights were dim, but more than a dozen House Republicans refused to go home Friday after the body adjourned for August recess.

The protesting conservatives gave impromptu speeches and nearly filled the seats of their powerful chamber with staffers, Boy Scouts and tourists, in an attempt to pressure Democrats to hold a vote on offshore drilling and other energy ideas. Republicans claim some 45 Congressmen took part.

Reporters scrambled to cover the extraordinary event, with no cameras permitted in the chamber. All sound systems had been turned off as soon as the House went into recess. But the noise was easy to hear from outside the chamber. The crowd on the floor chanted, "Vote! Vote! Vote!" after Congressmen Tom Price (R-Georgia) called for more action on energy and urged people to tell ten others to join the cause.

Listen: House Republicans and their guests chant "vote" in a dark House chamber.

Listen: Republicans and tourists applaud speeches in a shut-down House chamber.


Rep Kevin Brady, R-TX, said he was on a plane headed to Texas when he heard his GOP colleagues were still on the floor and he headed back to the Capitol. "The word went out that the people's house is finally the people's house again," he said.