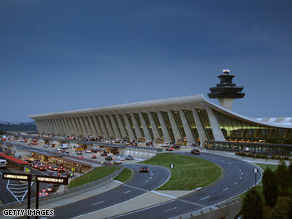 Dulles airport is planning for a surge in private plane traffic.
WASHINGTON (CNN) - Cars, limos and buses aren't the only modes of transportation that will find parking at a premium on Inauguration Day.
Dulles International Airport said Monday it will temporarily close its newest runway to provide parking for an expected surge in private planes during the big event.
The 9,400-foot runway known to pilots as 1L/19R will be closed from January 16 to 23, said Tara Hamilton, spokeswoman for the Washington Metropolitan Airports Authority. The airport is "guesstimating" that some 500 private aircraft will arrive at Dulles, and the runway will provide an overflow capacity for general aviation aircraft.