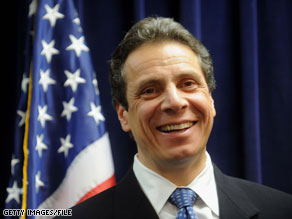 Andrew Coumo recused himself from an investigation of Gov. David Paterson, but not quickly enough for some critics.
(CNN) - One of New York Attorney General Andrew Cuomo's potential political rivals has criticized the length of time it took the state's top legal officer to recuse himself from investigations into the governor.
Cuomo appointed retired Judge Judith Kaye as independent counsel to run the investigations into Gov. David Paterson after a preliminary probe
determined "there are credible issues that need to be resolved," Cuomo said during a Thursday conference call.
The governor, a Democrat, announced two weeks ago he will not run for a full term in office. Cuomo is widely expected to make a bid for Paterson's job, and before his announcement Thursday, had drawn some criticism for investigating the governor.
Former Rep. Rick Lazio, the likely GOP New York gubernatorial nominee, said it took Cuomo too long to appoint an independent counsel to oversee the probes.
"After calling for an independent prosecutor for weeks, I am glad that Andrew Cuomo finally agreed with me and recused himself from this investigation," Lazio said in a Thursday statement. "It should not have required two weeks and a drop in the polls for Andrew Cuomo to recognize what he should have instinctively known from the beginning."