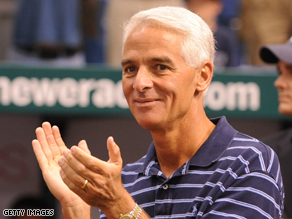 Crist will run for Senate, sources tell CNN.
WASHINGTON (CNN) - Florida Gov. Charlie Crist will announce Tuesday he will forgo another bid for governor and instead run for the Senate, two well placed Republican sources tell CNN.
Crist is a very popular governor in the Sunshine State and his entrance into the Senate race would take huge financial pressure off of national Republicans to help fund a campaign to save this Republican seat currently held by retiring Sen. Mel Martinez.
An April Quinnipiac Poll showed that registered Republicans would vote for Crist over former House speaker Marco Rubio, 54 percent to 8 percent, in a GOP primary. But the poll also found that more people overall and Republicans specifically would rather see Crist run for re-election as governor than seek the Senate seat.
Rubio announced his candidacy last week and is seeking to align himself with the conservative wing of the state party. Crist, who supported President Obama's stimulus package, is considered to be more closely aligned with centrist Republicans.