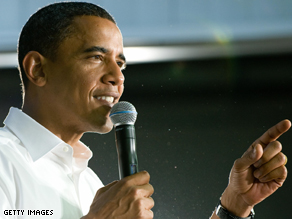 Obama is campaigning in Virginia.
NORFOLK, Virginia (CNN) – The lipstick flap dominated national coverage of Barack Obama's trip to Virginia, a state trending blue but so far out of reach for Democratic presidential hopefuls. It is no secret the Obama campaign is working this state hard and hoping for an upset this fall.
Obama visited Norfolk Tuesday, an area dominated by the military, to talk education reform. Monday he made his second visit since the primary season ended to southwestern Virginia, a rural slice of the state that went heavily for President Bush in 2004 and where Obama needs to improve his margins to win the state.
Watch: Michelle Obama works to court working women
"Senator Obama is a friend of coal, a friend of this region," said Congressman Rick Boucher, a southwest Democrat whose district includes the town of Lebanon where Obama spoke.
The discussion of coal is key in reaching out to this group of voters, many of whom work or did work in the industry. From the talk of coal to the Willie Nelson tunes used to warm up the crowd, it is obvious camp Obama is trying to make up for Democrats' past mistakes when it comes to relating to more conservative voters in more traditional regions. Obama's comment to a San Francisco fundraiser earlier this year about voters in these areas "clinging" to guns and religion has resurfaced recently as a Republican talking point.
"There are a lot of folks who come up to me and they say, 'you know Barack, I like your economic plan and I'm tired of George W Bush, or I got my NRA mailing and I'm worried you're going to take my gun away,'" Obama told the packed gym at Lebanon High School. "I just want to be absolutely clear … I believe in people's lawful right to bear arms. I will not take your shotgun way. I will not take your rifle away. I won't take your handgun away."