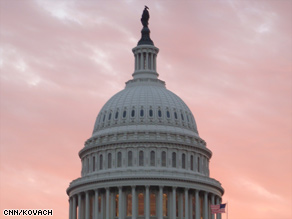 The CNN Washington Bureau's morning speed read of the top stories making news from around the country and the world.
WASHINGTON/POLITICAL
For the latest political news: www.CNNPolitics.com
CNN: South Carolina drama tops three primaries on Tuesday
Voters in three states head to the polls Tuesday, and in one of those states history might be made. South Carolina Republicans could make state Rep. Nikki Haley their first female gubernatorial nominee. She's in a runoff against U.S. Rep. Gresham Barrett. In neighboring North Carolina, Secretary of State Elaine Marshall faces off in a Democratic Senate primary runoff against former state Sen. Cal Cunningham, who was recruited by national Democrats. The winner will challenge Republican Sen. Richard Burr in November's general election. The fight for the GOP Senate nomination is capturing the spotlight in Utah, and the contest will be another test of the political strength of the Tea Party Express.
CNN: White House budget director leaving in July
Peter Orszag has told President Barack Obama that he plans to leave his position as White House budget director in July, an Obama administration official told CNN Monday evening. Orszag, 41, has been a key part of Obama's economic team, serving in his role as director of the Office of Management and Budget during the passage of the economic stimulus bill and this year's health care reform legislation. As budget director, he crafted policy, but also was a prime negotiator with congressional Republicans.
The Hill: Dems won't pass budget
House Democrats will not pass a budget blueprint in 2010, Majority Leader Steny Hoyer (D-Md.) will confirm in a speech on Tuesday. But Hoyer will vow to crack down on government spending, saying Democrats will enforce spending limits that are lower than what President Barack Obama has called for.
CNN: Proposed immigration measure stirs up Nebraska city
Voters in Fremont, Nebraska, are deciding on Monday the fate of a measure making national headlines and stirring up the continuing debate on immigration. Ordinance 5165 would, if approved, prohibit businesses from hiring illegal immigrants and halt landlords from renting to them. The issue has divided the city.
CNN: Haley earned $42,500 for consulting work while in legislature
Republican gubernatorial candidate Nikki Haley earned more than $40,000 in 2007 and 2008 consulting for one of South Carolina's largest engineering firms, according to tax records from those years released by her campaign on Monday. Haley's work for the firm, Wilbur Smith Associates, was first revealed last week when the campaign allowed reporters to view her 2009 tax records. The records showed that Haley collected $2,000 from the company, money she did not disclose on state ethics filings.
Wall Street Journal: Newcomer Upends Florida Race
Many Republicans in this state thought their party's nomination for governor was all but settled. Bill McCollum, Florida's buttoned-down attorney general, had statewide name recognition and newly burnished conservative credentials, thanks to his leadership of a 20-state effort to overturn President Barack Obama's health law in court. But in the course of a few weeks, a political newcomer has upended the race, launching a well-funded challenge to Mr. McCollum and taking the lead in two recent polls.