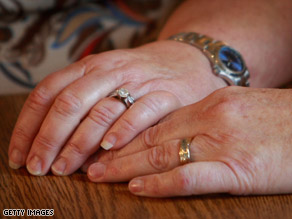 New Hampshire Gov. John Lynch signed a bill Wednesday legalizing same-sex marriage in his state.
(CNN) - New Hampshire Gov. John Lynch signed same-sex marriage into law Wednesday night.
The bill, which passed the House 198-176 on Wednesday, also was approved by the state Senate 14-10.
The Gay & Lesbian Alliance Against Defamation - the nation's primary lesbian, gay, bisexual and transgender media advocacy and anti-defamation organization - applauded Lynch's decision.
"Gov. Lynch's signing of the marriage equality bill grants legal protections for same-sex couples in New Hampshire to take care of and be responsible for each other," said the organization's president, Neil Giuliano.
"As people get to know the loving and committed couples at the heart of marriage equality, our culture is moving to equality."
Both chambers had previously voted to approve same-sex marriage but Lynch said he would sign the bill into law only if the legislature added new language to protect religious institutions that did not want to perform such marriages.
"We can and must treat both same-sex couples and people of certain religious traditions with respect and dignity," Lynch had said. "I believe this proposed language will accomplish both of these goals."