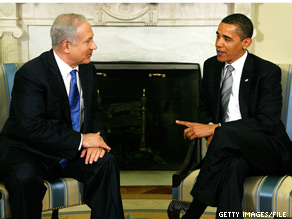 President Obama will meet with Israeli Prime Minister Benjamin Netanyahu at the White House on July 6th.
Washington (CNN) - The White House says President Obama will attempt to "seize momentum" in the Middle East peace process when he sits down Tuesday morning for a rescheduled Oval office meeting with Israel's Prime Minister Benjamin Netanyahu.
"The gaps have narrowed," said Ben Rhodes, Deputy National Security Advisor for Strategic Communications.
In a conference call briefing ahead of the long anticipated meeting, Rhodes and Dan Shapiro, NSC Senior Director for the Middle East and North Africa, said the meeting would focus on how to move proximity talks to direct talks, and on the recent "liberalization" of Israel's policy on commercial traffic into Gaza.