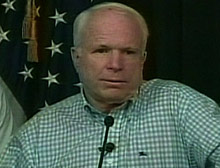 McCain visited Iraq in April on a publicly funded trip.
WASHINGTON (CNN) - In the course of election campaigns, the incumbent administration usually begins to offer the top contenders both national security and military briefings, as a matter of course and to avoid misspeaking about defense matters.
But the high number of candidates and continuing war is making this a tricky situation for the Pentagon.
The Defense Department is starting to field requests for travel to Iraq - a good photo-op for candidates.
Sources tell CNN that former New York City Mayor Rudy Giuliani is trying to get to Iraq, but there are still questions about how he would travel there, who would provide security and who would pay.
Of course, many of the candidates are congressional members and can go to Iraq on a publicly funded trip. Recently we've seen a few such trips including Sen. John McCain, R-Arizona, who traveled to the country last April.
Congressional members also get Iraq briefings as part of their day jobs on the Hill.
Now the Pentagon has to figure out when to start briefing candidates who are not office-holders like Giuliani and former Sen. John Edwards.
The White House, Pentagon and intelligence agencies are beginning to discuss when and how to do just that, but the talks are very preliminary at the moment, sources say.
- CNN Pentagon Correspondent Barbara Star